Chicken, Asparagus & Peas Dog Food Recipe
Ingredients
7 ounces (1 cup) chicken, cooked
1 cup asparagus, cooked
1 cup green peas, cooked
4 teaspoons Azestfor Vitamins
Prep Time: 5 minutes
Cook Time: 20 minutes
Yield: This recipe will yield approximately 3 cups of food. Equating to 534 calories (Kcals) Approximately enough servings of food for one day for an 18 lb dog to maintain weight.
This cooking for dogs recipe made with chicken, asparagus and peas is grain free, low fat and low carbohydrate. It makes nutritionally complete and balanced homemade dog food suitable for dogs of all ages and breeds ensuring they get everything they need to thrive and live their best lives, with the added benefit of enjoying a diet free of preservatives, chemical treatments or harsh processing.

Home cooking for dogs how to prepare chicken
You can use white or dark meat or ground chicken. Cook the chicken by boiling it in a little water. It is important that all bones are removed from the cooked chicken. Cooked bones can splinter if digested and damage the stomach and intestine.
The chicken is cooked when the juices inside run clear.
Let the chicken cool than dice the chicken into bit size chunks. Shredding it is also fine.
Add fresh or frozen peas to the cooked meat. The heat will lightly cook the peas. ​Rinse the peas under running water.

Peas may pass through the dogs whole. To aid in digestion you can mash them or process them in the blender.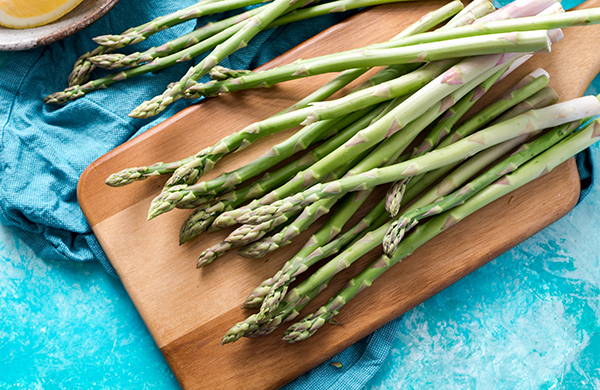 Preparing Asparagus For Dogs
Place asparagus in a saucepan and cover with a few inches of water in a saucepan. When the water starts to boil, cook for 5 minutes.
If you wish, use a microwave-safe cooking dish to boil asparagus in the microwave. Fill the cooking dish with 1/4 cup water, then add the spears and place the lid on the dish. Cook the asparagus on your microwave oven's high power setting for 3 minutes, then open the door and stir. Finish cooking until the spears are just barely tender, about 3 to 4 more minutes
Chop asparagus to small bite sizes or run cooked asparagus through food processor.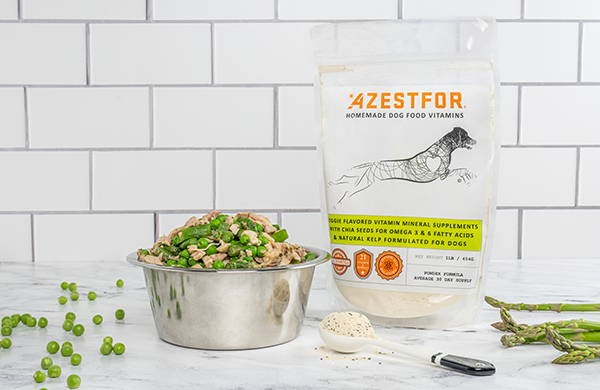 Add Vitamins & Minerals to home cooked dog food
When the meat and veggies are cool to touch - add the vitamins and minerals to the dog food to make it complete and balanced. Azestfor nutritional supplements are added to ensure your dog gets everything that they need to thrive and the dog food is nutritionally complete and balanced. No need to add additional calcium as the Azestfor homemade dog food vitamins have the correct ratio of calcium, phosphorous and minerals.
​Heat destroys the potency of vitamins.
Instructional Video Cooking for Dogs:
Is Asparagus Poisonous to Dogs?
No - Asparagus spears are not poisonous to dogs. Asparagus is safe and healthy for dogs to eat. It is recommended that the asparagus be cooked to help the dog's digestion system break the asparagus down. If asparagus is fed raw to your dog it may cause gas or excessive mucus in their poop. To prepare asparagus for dogs steam it in boiling water - once cooked finely chop the asparagus stalks so they are bite sizes appropriate for your dogs size or alternatively run the cooked asparagus through a food processor so dogs who are picky eaters can't eat around it.
Do not add oil, butter, salt or seasoning to the asparagus. Keep it bland.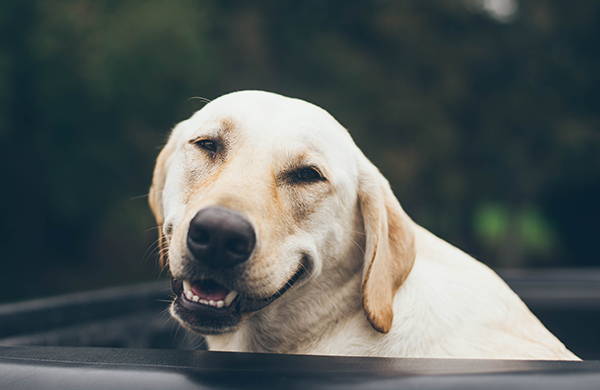 No peas are not bad for dogs.
Are Grain Free Diets Bad For Dogs?
The FDA are mid-investigation into a potential link between dilated cardiomyopathy (DCM) and diets, the results are still inconclusive.

Evidence points to a genetic predisposition of disease and breeding selection along with how pets are fed. These factors have a higher impact on overall health than a single ingredient used in a dog food. In humans DCM can be caused by certain medications and toxins. So to get a full picture of each diagnosed case of canine DCM - should consider other variables such as genetics, medications, vaccines, and flea, tick and heart worm preventatives, plus the treats and snacks the dog is fed.

We have 24 recipes available with two flavors of vitamin premix. This allows pet parents to tailor their dogs diets to meet their individual needs.
The recipe can be prepared in large batches and frozen. It will keep for up to a year in the freezer, or one week in the fridge. Freezing vitamins preserves their potency. I would recommend portioning the food into meal size servings appropriate for your dog before freezing it. To defrost a frozen meal – put it in the fridge overnight.
If you want to add the Azestfor Homemade Dog Food Vitamins just before serving you would add 1 1/3 teaspoons per cup of food.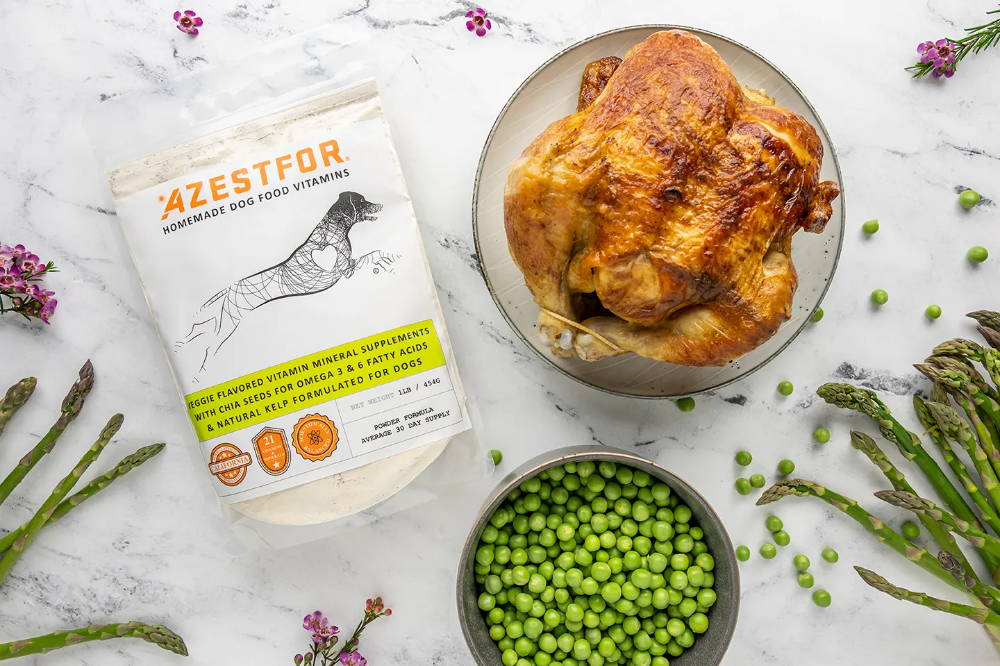 Feeding Guidelines:
We suggest dividing the daily amount into two servings, one in the morning and one in the evening. Every dog's nutritional requirements are a little bit different due to age & amount of exercise. If your dog is losing weight, increase food by 1/4 cup a day, if they are gaining weight reduce accordingly.
| | |
| --- | --- |
| Weight of Dog | Amount Homemade Dog Food To Feed To Maintain Weight |
| | |
| | |
| | |
| | |
| | |
| | |
| | |
| | |
| | |
| | |
| | |
Shopping Check List:
Chicken

Peas

Asparagus

Freezer bags or other storage containers