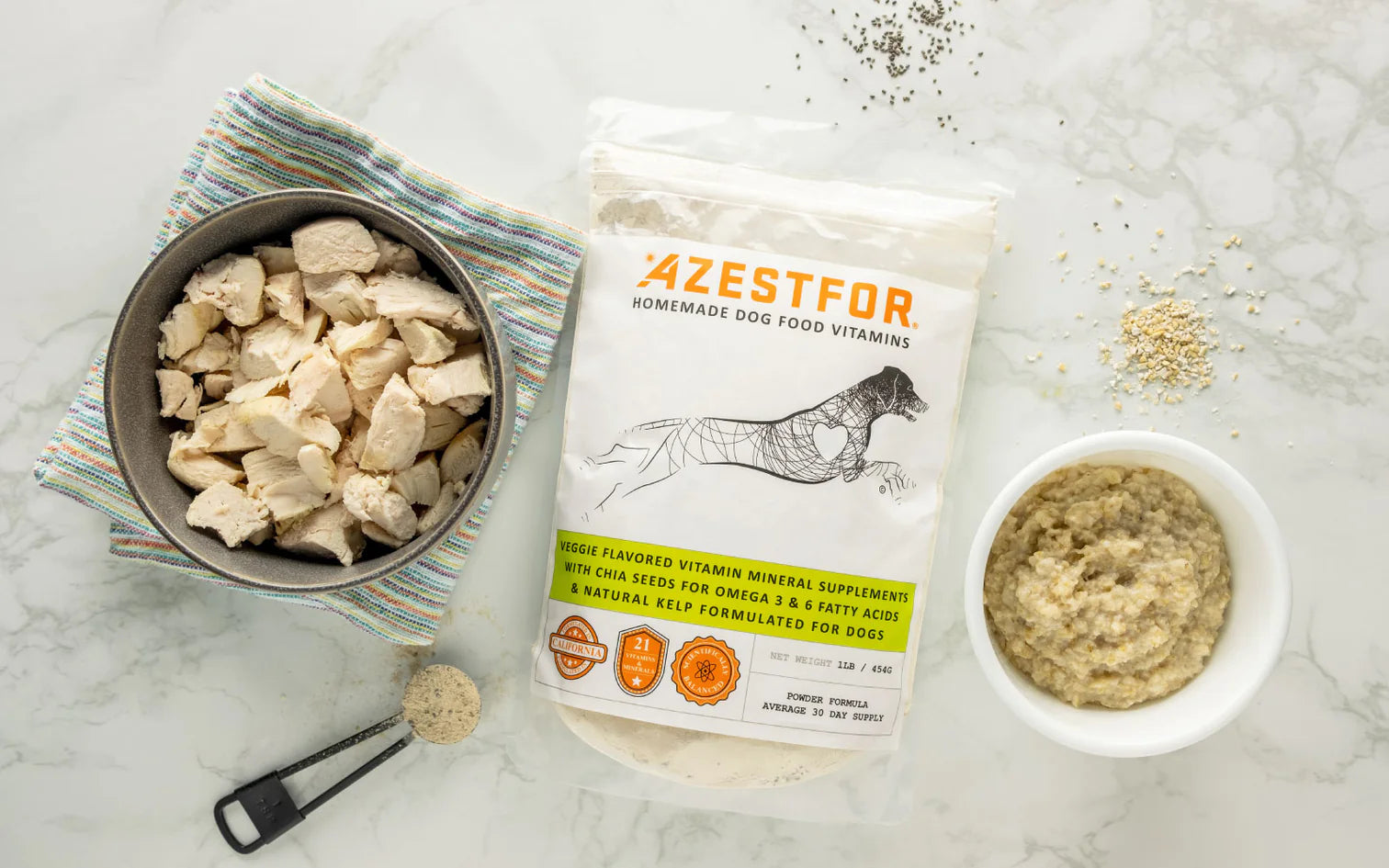 Home Cooked Dog Food Chicken & Oatmeal
Home Cooked Dog Food Chicken & Oatmeal
Prep Time: 5 minutes
Cook Time: 20 minutes
This Home Cooked Dog Food recipe is a great meal for dogs with sensitive stomachs, gluten intolerance or looking for weight loss. Made with chicken and oats this recipe is simple and quick to make containing only three ingredients.
This recipe will yield approximately 2 cups of food. Equating to 533 calories (Kcals) Approximately enough servings of food for one day for an 18 lb dog to maintain weight.
STEP 1
Prepare chicken for oatmeal dog food
Cook the chicken by boiling it in a little water. It is important that all bones are removed from the cooked chicken. Let the chicken cool than dice the chicken into bit size chunks. Shredding it is also fine. The chicken is cooked when the juices inside run clear. You can use white or dark meat or ground chicken.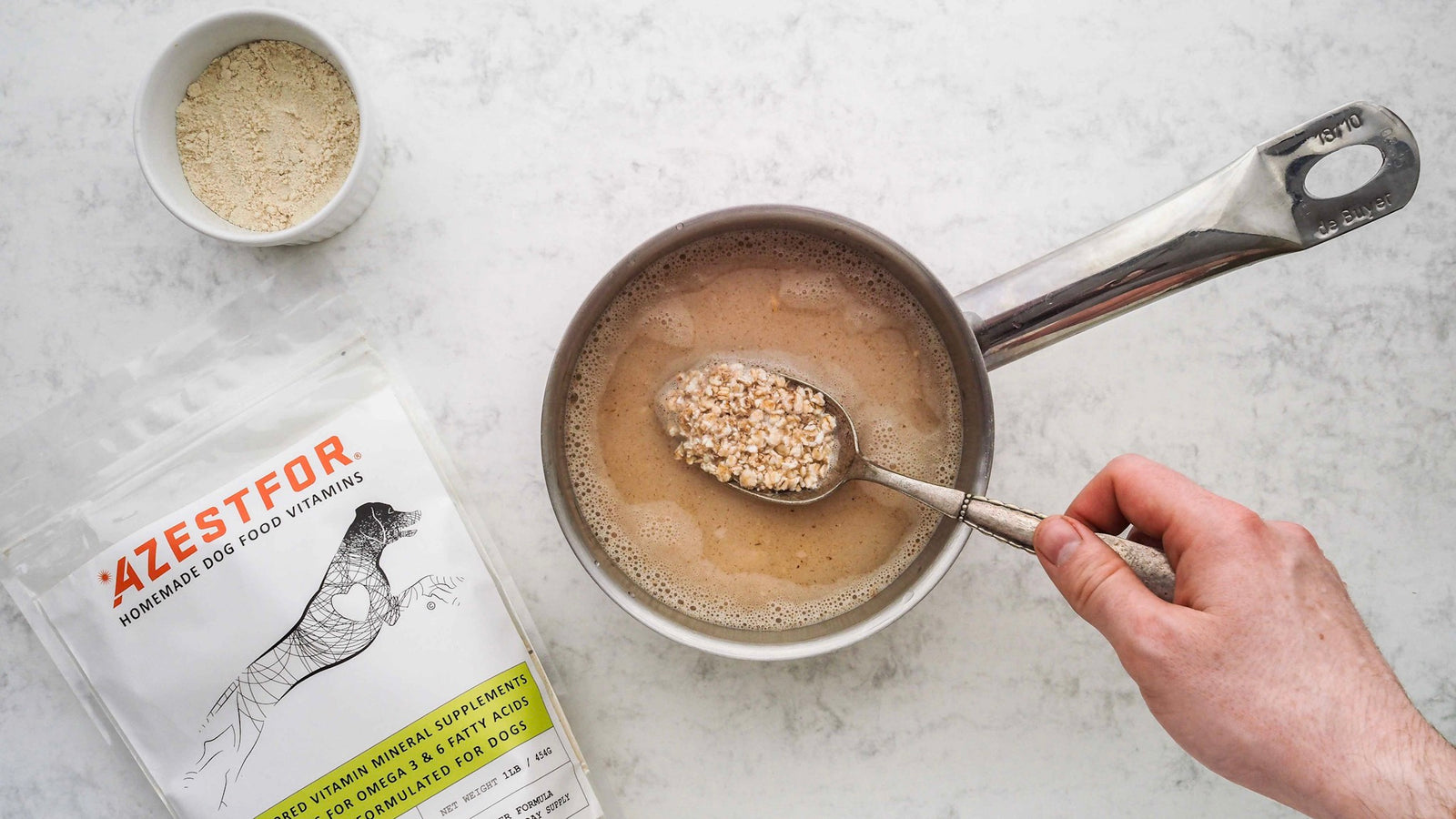 STEP 2
Preparing oats for dogs
Oatmeal should be plain with no flavorings or additives. It should be prepared with no added sweetness (sugar) or sodium (salt). 1 part rolled oats 3 parts water. Combine oats and water in a pot over medium-low heat. Bring to a simmer, stirring frequently. Or alternatively out in a large microwavable bowl and cook on high for 7 minutes.

Simmer and stir until the oats are tender. If all the liquid has reduced before your oats are tender, stir in a bit more water and continue to cook.
STEP 3
Add vitamin minerals to dog food with oatmeal and chicken recipe
When the meat and oats are cool to touch you can add the Azestfor nutritional supplements. You can add a couple of ice cubes to the oatmeal and stir until melted to help bring the oatmeal to room temperature faster. Heat destroys the potency of vitamins.
Watch Instructional Cooking Video Home Cooked Dog Food
Feeding Guidelines
We suggest dividing the daily amount into two servings, one in the morning and one in the evening. Every dog's nutritional requirements are a little bit different due to age & amount of exercise. If your dog is losing weight, increase food by 1/4 cup a day, if they are gaining weight reduce accordingly.
Weight of Dog
5 lbs. to maintain weight 3/4 cup per day
10 lbs. to maintain weight 1 1/3 cups per day
15 lbs. to maintain weight 1 3/4 cups per day
20 lbs. to maintain weight 2 cups per day
30 lbs. to maintain weight 3 cups per day
40 lbs. to maintain weight 3 1/2 cups per day
50 lbs. to maintain weight 4 1/3 cups per day
60 lbs. to maintain weight 5 cups per day
70 lbs. to maintain weight 6 cups per day
80 lbs. to maintain weight 6 1/4 cups per day
90 lbs. to maintain weight 6 1/2 cups per day
Shopping Check List
Chicken
Oatmeal
Freezer bags or other storage containers