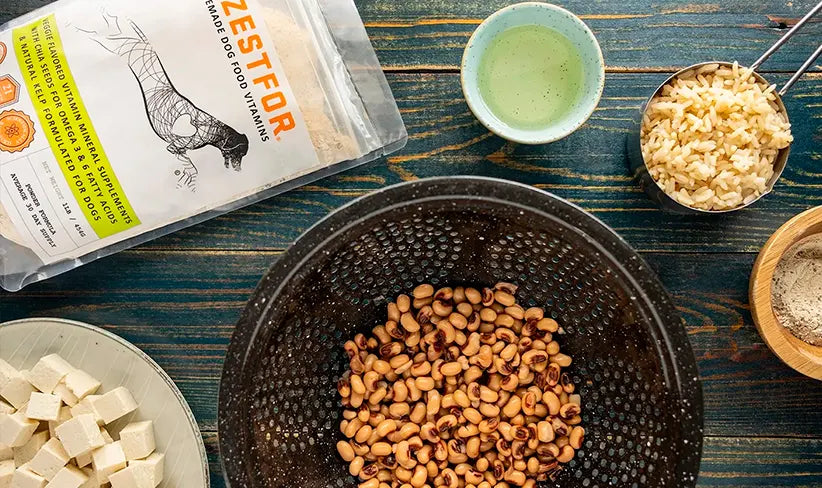 Tofu, Rice & Black Eyed Peas
Vegan Dog Food Recipe
1 1/2 cups tofu
1 cup rice, cooked
1 cup cooked black eyed peas*
1 teaspoon sunflower oil
4 teaspoonsAzestfor Vitamins
*While canned black-eyed peas will shorten the prep time on this recipe, we recommend using dried to avoid unnecessary preservatives like too much salt.
Prep Time: 1 hour (boil dry beans for 3 minutes than allow beans to soak for 1 hour before continuing to cooking to aid digestion)
Traditional Cook Time: ~Boil 1 Hour (after soaking dry beans 1 hour and allowing them to absorb liquid in step above preparation boil for 1 hour)
Instant Pot Cook Time: ~ 30 minutes (no pre-soak required!)
3.5 cups of food, Equating to 765 calories (Kcals), Approximately enough servings of food for one day for an 30 lb dog to maintain weight.
This easy homemade vegan dog food recipe is an excellent choice for pet parents trying to find a healthy dog food recipe to feed a dog with multiple protein allergies. Not only will this recipe create happy tummies, black-eyed peas naturally contain lutein- an antioxidant that can soothe a dog's itchy skin and fight inflammation. These heart healthy beans (also known as cowpeas) have zero cholesterol and can help relieve constipation.
STEP 1
How to Prepare Black Eyed Peas for Dogs
Black-eyed peas take up the bulk of our cooking time for this recipe.

Place dried peas in a pot, cover with water, and bring to a boil for 2-3 minutes. Remove pot from heat and allow to soak for 60 minutes.

Drain soaking water, rinse peas, cover with fresh, cold water for boiling. Place pot back on the stove, cover and bring to a boil. Once boiling, reduce heat and simmer, tilting the lid slightly to allow steam to escape. Cook for up to an hour, or until tender. Set aside to cool.

If you have an Instant Pot, you can cook your black-eyed peas in 30 minutes without doing a pre-soak, and save yourself a ton of time!

Simply rinse 1 cup of black-eyed peas in water, pour them into your Instant Pot and cover with 3 fresh cups of water. Cover with lid and cook for 30 minutes on high pressure cook, with a 10-15 minute natural release.

If your dog tends to be gassy naturally, you may want to soak your dried beans overnight in water, or for about an hour prior to the Instant Pot step to aid digestion and keep your house smelling fresh!
STEP 2
Cooking the Rice for Vegan Dog Food
While your black eye peas are soaking or boiling, place rice in a saucepan with double the amount of water. Bring to a boil. Then turn the heat all the way down and cover the pan tightly with a lid. Cook on the lowest heat possible for 10-15 minutes without uncovering the pan. Use a fork to fluff up the cooked rice. Set aside to cool.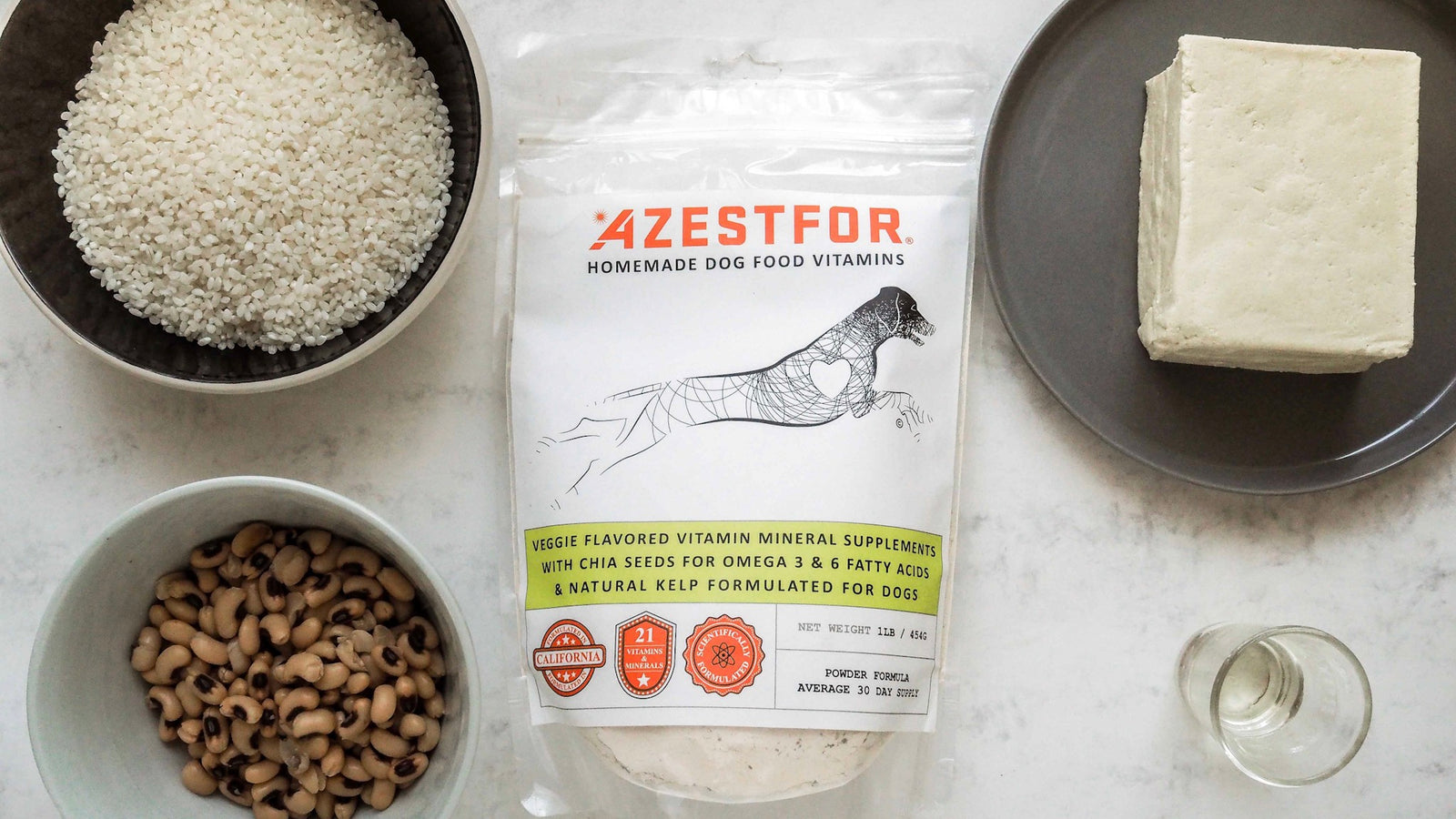 STEP 3
How to Cook Tofu for Dogs
Tofu does not need to be cooked. It actually can be eaten raw. While rice is cooking, drain tofu from its package, and chop into bite sized pieces.
STEP 4
Add Sunflower Oil
Sunflower oil is added as a source of linoleic acid to support a strong immune system and promote a healthy coat and skin. If you would like a substitute oil you can add Wheat germ, Walnut or Corn oil in the ratio of 1.2 per 1 teaspoon of sunflower oil.
STEP 5
Add vitamin mineral mix to balance homemade vegan dog food
When the tofu, rice and black eyed peas are cool to touch, add Azestfor vitamin mix for homemade dog food to make your pet's meal nutritionally balanced. Combine all ingredients and serve.
Watch Instructional Cooking Video How to Make Vegan Dog Food:
Tips for Serving Azestfor Vitamins:

To ensure your pet is getting the greatest benefits possible from his or her dog food supplement powder, remember these tips:
Heat destroys the potency of vitamins
A fully cooked recipe with vitamins mixed in, CAN BE FROZEN for up to one year from the cook date. This will not affect supplement potency.
If you prefer to add your vitamins just before serving, add 1-1/4 teaspoons of Azestfor homemade dog food vitamins per 1 cup of homemade dog food.
Food Storage: 

The recipe can be prepared in large batches and frozen. It will keep for up to a year in the freezer, or one week in the fridge.
Freezing vitamins preserves their potency. We would recommend portioning the food into meal size servings before freezing it.
To defrost a frozen meal – put it in the fridge overnight.
Feeding Guidelines:

We suggest dividing the daily amount for this homemade dog food for allergies into two servings: one in the morning and one in the evening. Every dog's nutritional requirements are a little bit different due to age & amount of exercise. If your dog is losing weight, increase food by 1/4 cup a day, if s/he is gaining weight, reduce accordingly.
Weight of Dog
5 lbs to maintain weight 1 cup per day
10 lbs to maintain weight 1 1/2 cups per day
15 lbs to maintain weight 2 cups per day
20 lbs to maintain weight 2 2/3 cups per day
30 lbs to maintain weight 3 1/2 cups per day
40 lbs to maintain weight 4 1/2 cups per day
50 lbs to maintain weight 5 1/4 cups per day
60 lbs to maintain weight 6 cups per day
70 lbs to maintain weight 6 3/4 cups per day
80 lbs to maintain weight 7 1/2 cups per day
90 lbs to maintain weight 8 cups per day
Yes. While we typically recommend animal protein over vegan foods for dogs, tofu is a safe, plant based protein for dogs made from soy milk curds. It is available in a variety of textures from extra-firm to soft. The tofu in this hypoallergenic homemade dog food recipe is an excellent food for dogs with allergies triggered by animal protein, and can help soothe a sensitive stomach with gastrointestinal issues.
If your dog does not have allergies to animal protein ( i.e. milk - which is very rare for dogs), you may also want to try our very simple to prepare, Vegetarian Cottage Cheese & Rice Homemade Dog Food Recipe.
If your dog is struggling with allergies of any kind, be sure to check out our page on Itchy Dog Remedies.
Yes! Black-eyed peas are a healthy choice for your dog. In general, they are high in protein, fiber, and are full of nutritious minerals like iron (especially important for dogs on a vegetarian diet, or any experiencing constipation).
Yes. Quick cooking, instant rice simply means the rice has already been cooked before and was dehydrated prior to being packaged, to make your cooking time faster. While less cooking time sounds desirable, it typically means the food you are preparing is more processed and has less nutritional value.
Brown rice is a healthier choice than white due to its higher concentration of protein, fiber, and minerals. However, for dogs with a sensitive stomach, white rice is always preferred by vets and pet parents alike, because it is gentler on an upset tummy and easier to digest.
Be careful if your dog is a diabetic. White rice is high on the glycemic index, so you will need to look for a carbohydrate alternative like quinoa, peas, beans or lentils.