Homemade Food for Dogs
7 oz (raw weight), Beef, cooked
1 cup Potato, cooked
1 cup Kale, cooked
1 teaspoon Sunflower Oil
3 teaspoonsAzestfor Vitamins
Prep Time:10 minutes
Cook Time:30 minutes
This cooking recipe will yield approximately 3 cups of food. Equating to 832 calories (Kcals) Approximately enough servings of food for one day for an 35 lb dog to maintain weight.
This Homemade Food for Dogs recipe is a simple and healthy diet for all dogs large or small. Made with fresh wholefood ingredients beef, potatoes and kale. Cooking for your dog allows you to craft a custom meal just for your unique dog. The potatoes make this recipe grain free, the beef is rich in calories great for active dogs and the kale is a good source of fiber.
Batch Cooking Ingredients
3 lbs (raw weight), Beef, cooked
3 lbs Potato, cooked
1 lb Kale, cooked
7 teaspoons Sunflower Oil
1/2 cupAzestfor Vitamins
This batch cooking recipe will yield approximately 7 lbs of food. Equating to 4,432 calories (Kcals) Approximately enough servings of food for four and half days for an 40 lb dog to maintain weight.
Preparation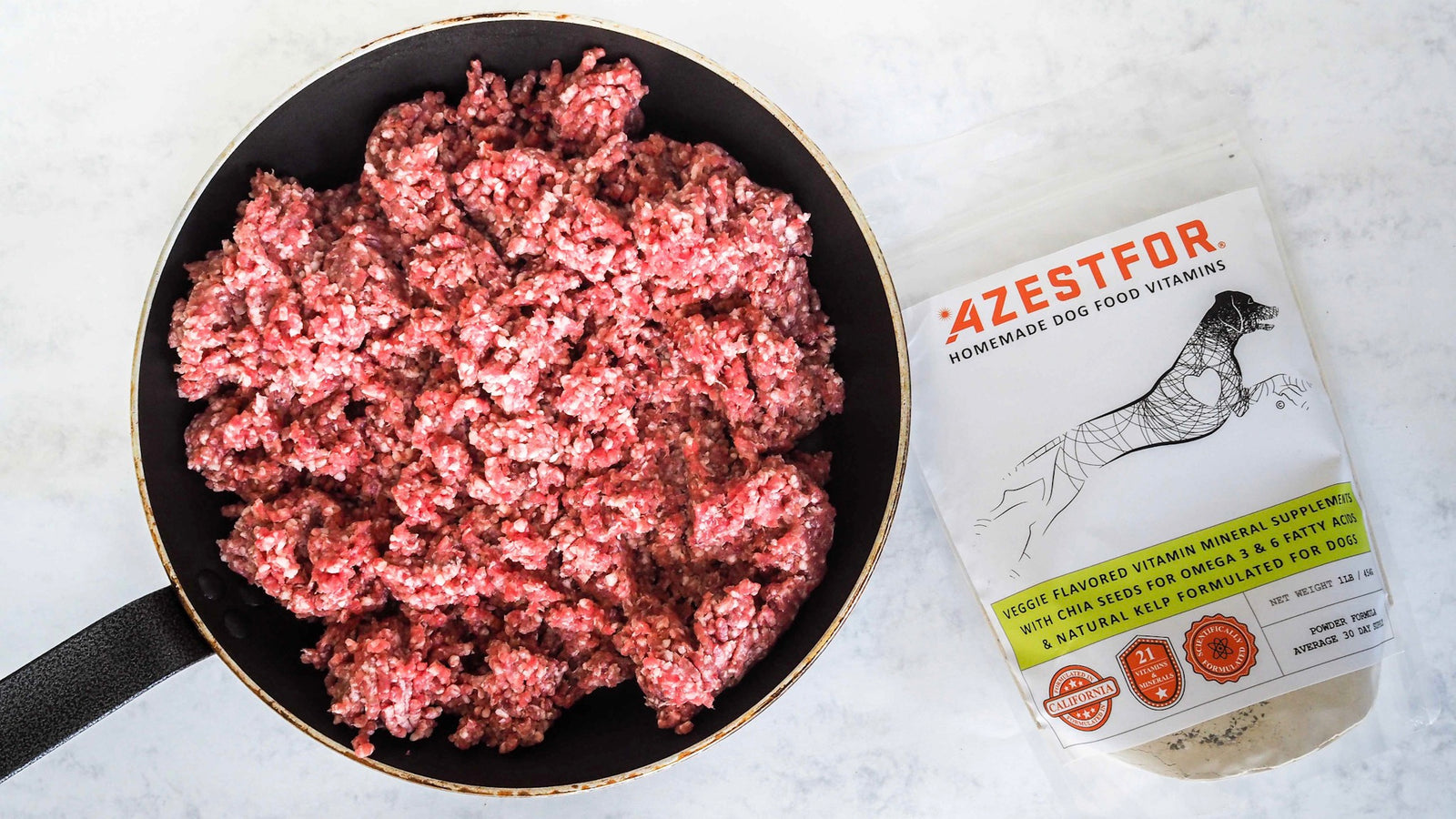 STEP 1
How to cook beef for dogs
In a large skillet or pot place cubed or ground beef. Add just enough water to cover. Bring to a boil. Cover and simmer gently for about 30 minutes or until beef is cooked.

Remove from heat. Drain excess liquid. As when fat is cooked it turns into grease.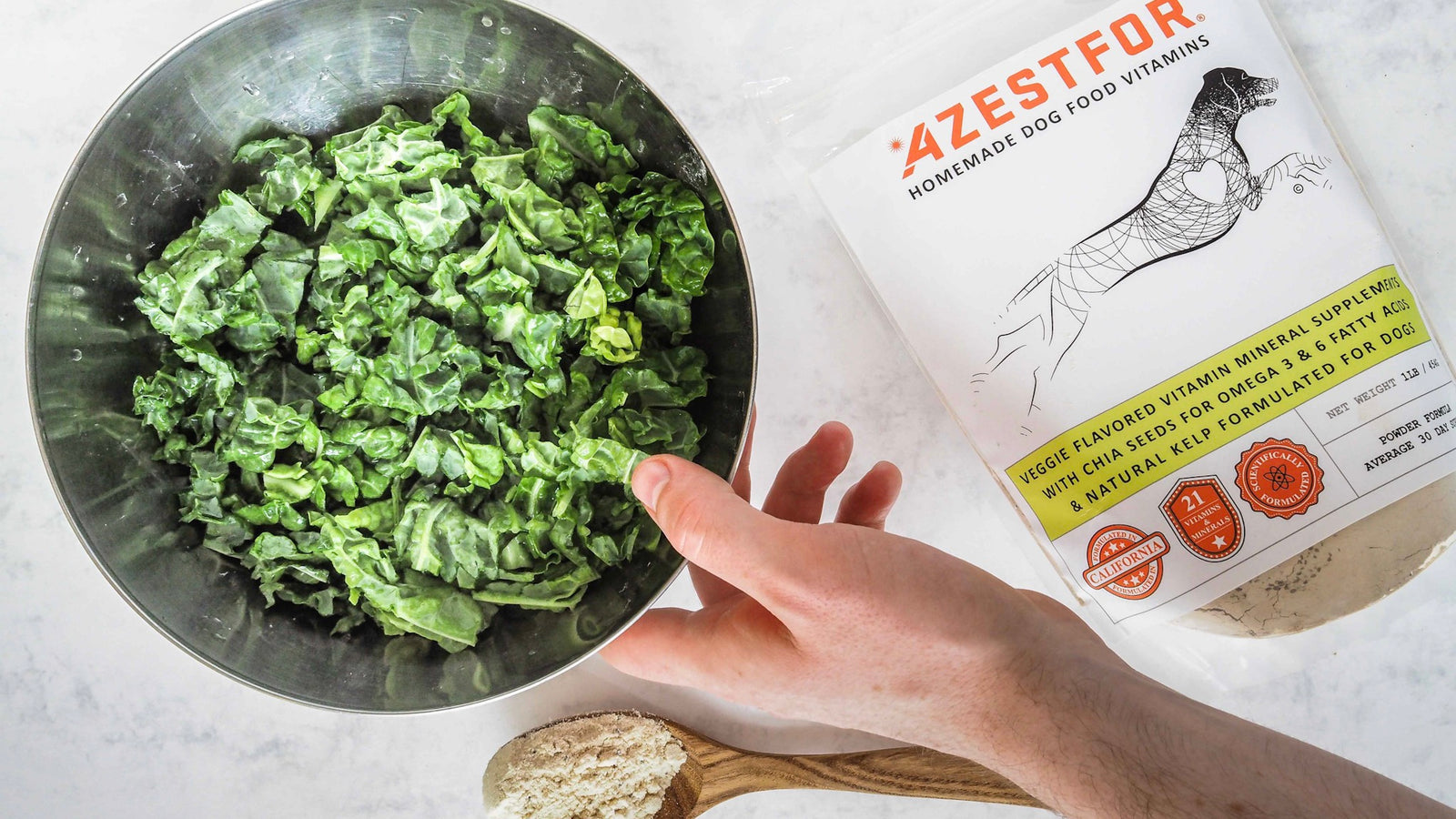 STEP 2
How to cook kale for dogs
Rinse the kale than finely chop. Drop the kale into boiling water. When cooked drain the liquid.

If your dog is being picky about kale you can run the cooked kale through a food processor to turn it into fine pieces. Than blend the kale with the other cooked ingredients.
STEP 3
How to cook potatoes for dogs
Cook the potatoes by boiling them in water. They can be mashed or cubed into bite size – depending on the preference of your dog. Begin checking the potatoes after around 5 minutes of boiling; most potatoes will be done in 10 to 20 minutes. The potatoes are done when they are tender all the way through. You can test this by poking the potato with a fork, paring knife, or skewer.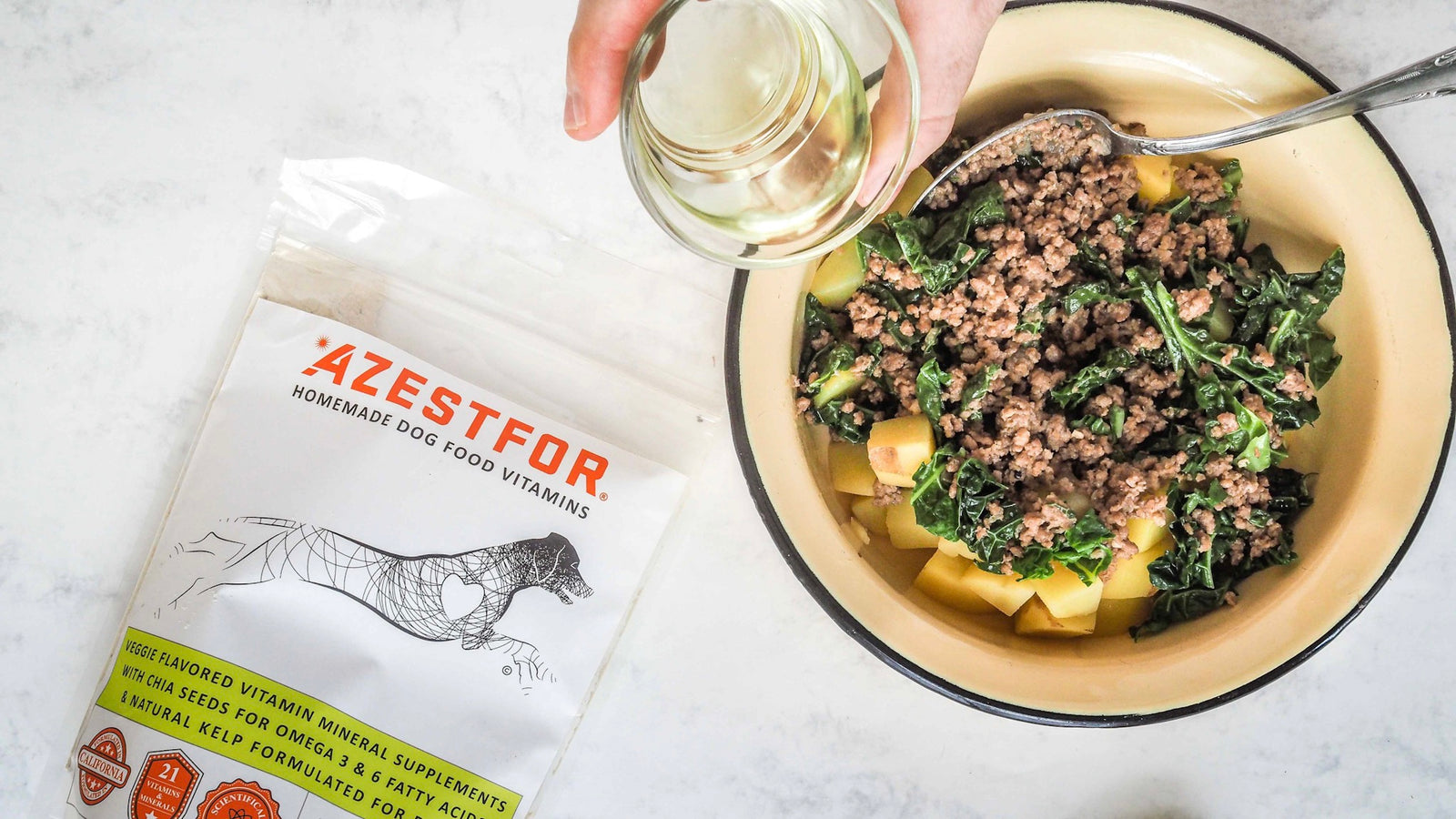 STEP 4
Add Sunflower oil
Sunflower oil is added as a source of linoleic acid. If you would like a substitute oil you can add Wheat germ, Walnut or Corn oil in the amount of 1.2 teaspoons..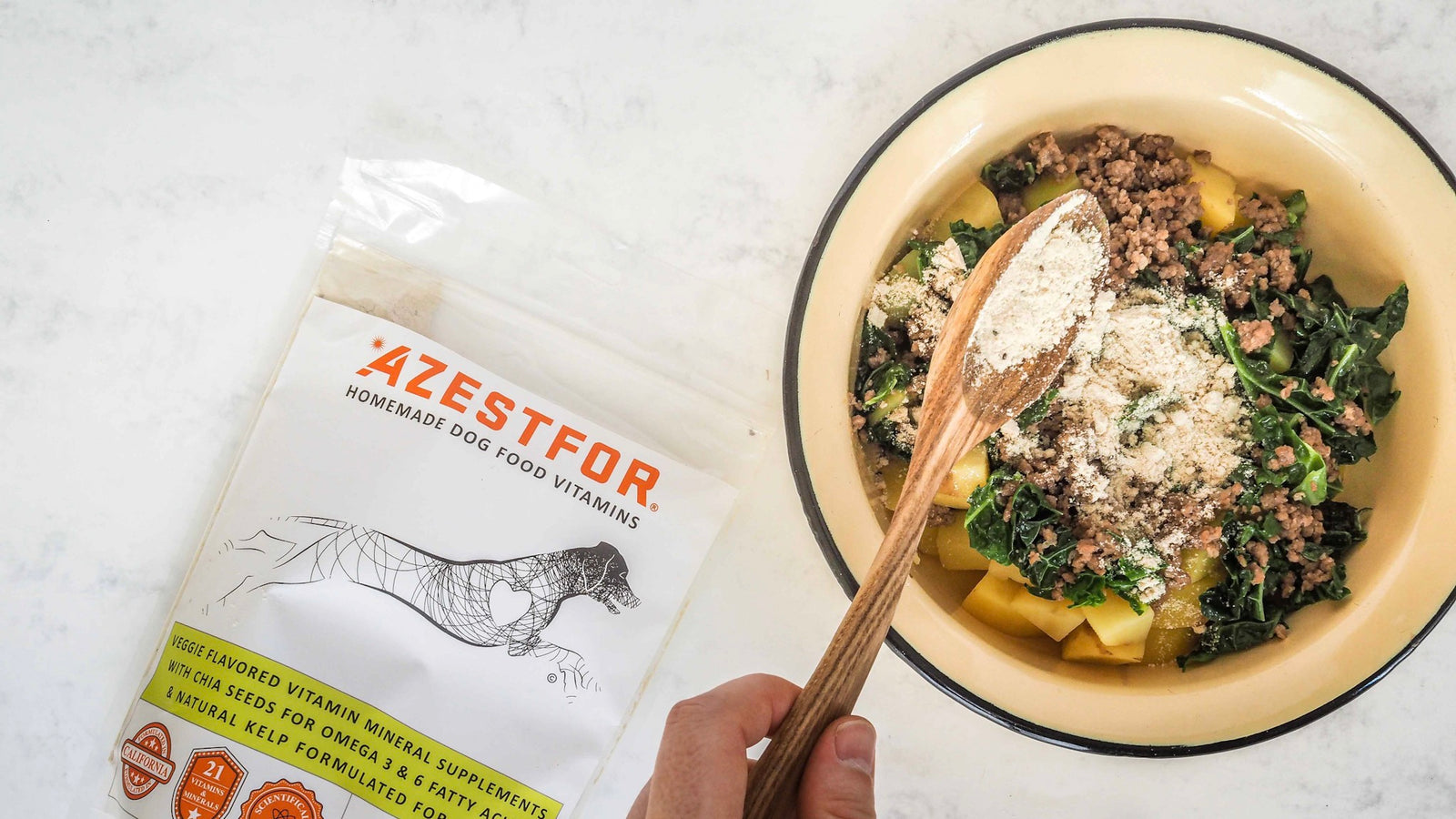 STEP 5
Add vitamins to homemade dog food
When the meat, kale and potatoes are cool to touch you can add the Azestfor nutritional supplements. If you are adding the Azestfor just before serving you would add 1 1/4 teaspoons Azestfor Homemade Dog Food Vitamins per 1 cup of homemade dog food.

Heat destroys the potency of vitamins.
Watch Instructional Cooking Video Homemade Food for Dogs
Blanching vegetables is an easy way to improve digestibility and clean the vegetables of dirt.
If you want to feed your dog raw meat that is a personal choice. It is highly recommended that you follow healthy basic food health safety standards.
Wash all surfaces that come into contact with raw meat in hot water with soap.
Clean the dogs bowl in hot water and soap between all feedings.
Don't leave dog waste in the yard. Always wash hands with soap and hot water after picking up dogs waste.
If there are elderly people, small children or those with compromised immune systems in the household it is recommended by the FDA, The U.S. Centers for Disease Control and Prevention (CDC) and the American Veterinary Medical Association (AVMA) to cook the meat in the dogs food recipes as pathogens i.e. salmonella and listeria could be potentially passed along to those who may have weakened immune systems.
The recipe can be prepared in large batches and frozen. It will keep for up to a year in the freezer, or one week in the fridge. Freezing vitamins preserves their potency. I would recommend portioning the food into meal size servings before freezing it.
To defrost a frozen meal – put it in the fridge overnight.
We suggest dividing the daily amount into two servings, one in the morning and one in the evening. Every dog's nutritional requirements are a little bit different due to age & amount of exercise. If your dog is losing weight, increase food by 1/4 cup a day, if they are gaining weight reduce accordingly.
5 lbs to maintain weight 2/3 cup (4.4 oz) per day
10 lbs to maintain weight 1 cups ( 7.5 oz) per day
15 lbs to maintain weight 1 1/2 cups ( 10.5 oz) per day
20 lbs to maintain weight 2 cups ( 13 oz) per day
30 lbs to maintain weight 2 1/2 cups (17.5 oz) per day
40 lbs to maintain weight 3 1/2 cups (24.5 oz) per day
50 lbs to maintain weight 4 1/8 cups (29 oz) per day
60 lbs to maintain weight 5 cups (35 oz) per day
70 lbs to maintain weight 5 1/3 cups ( 37 oz) per day
80 lbs to maintain weight 5 3/4 cups (40.25 oz) per day
90 lbs to maintain weight 6 3/7 cups ( 45 oz) per day