Healthy Homemade Dog Food
Chicken and Rice Healthy Homemade Dog Food Recipe
Prep Time: 5 minutes
Cook Time: 20 minutes
Servings: 2
This homemade dog food recipe for sensitive stomach will yield approximately 2 1/2 cups of food. Equating to 689 calories (Kcals) Approximately enough servings of food for one day for an 25 lb dog to maintain weight.
This Healthy Homemade Dog Food recipe is ideal for easy digestion, maintenance, and a healthy coat. Containing brown rice and chicken this recipe is simple and satisfying.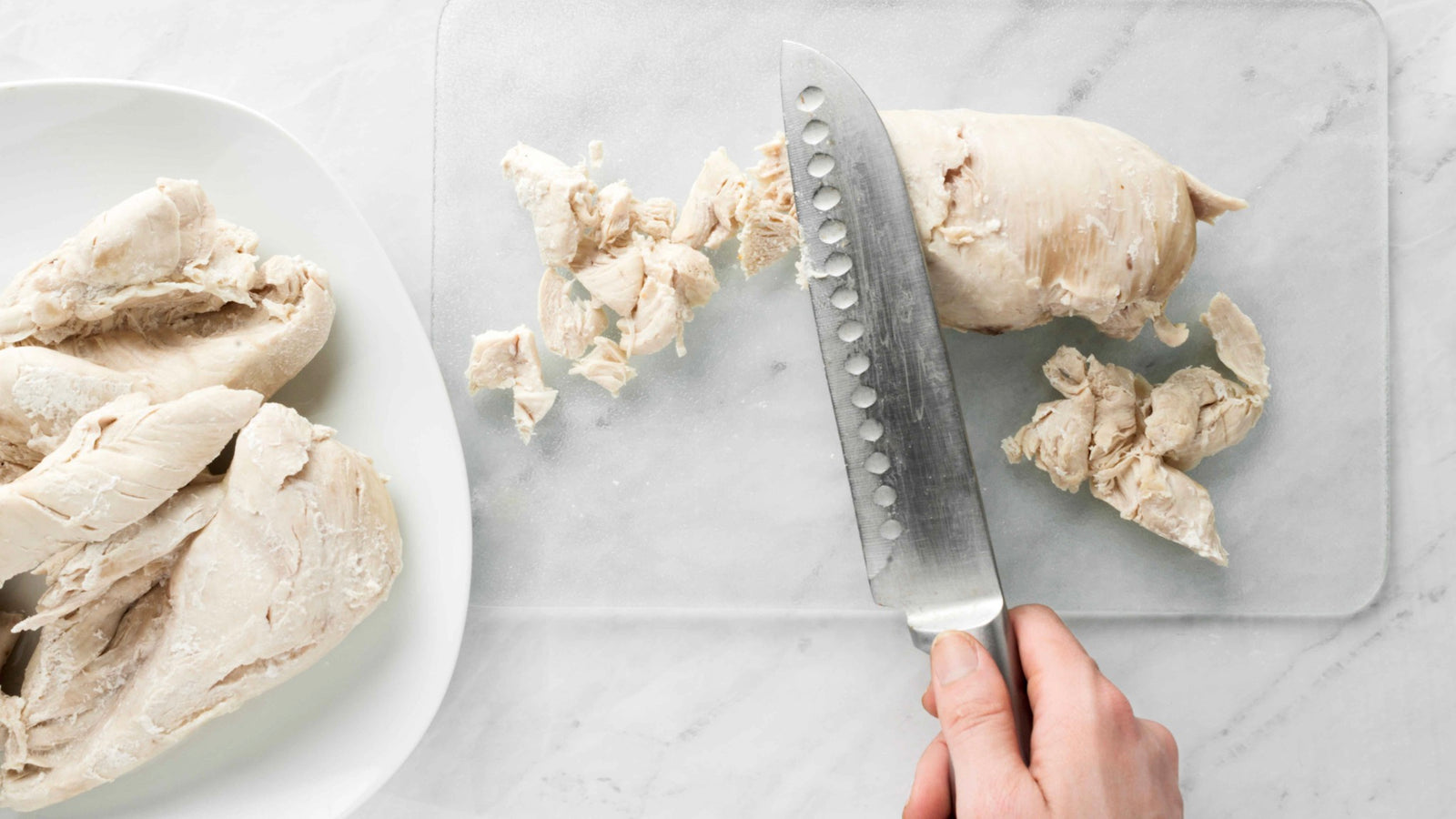 STEP 1
Cooking Chicken for Dogs
Cook the chicken by boiling it in a little water. It is important that all bones are removed from the cooked chicken. Let the chicken cool than dice the chicken into bit size chunks. Shredding it is also fine. The chicken is cooked when the juices inside run clear. You can use white or dark meat or ground chicken.
STEP 2
Cooking Rice for Dog Food
Place rice in a saucepan with double the amount of water. Bring to the boil, then turn the heat all the way down and cover the pan tightly with a lid. Cook on the lowest heat possible for 10-15 mins without uncovering the pan. Use a fork to fluff up the cooked rice.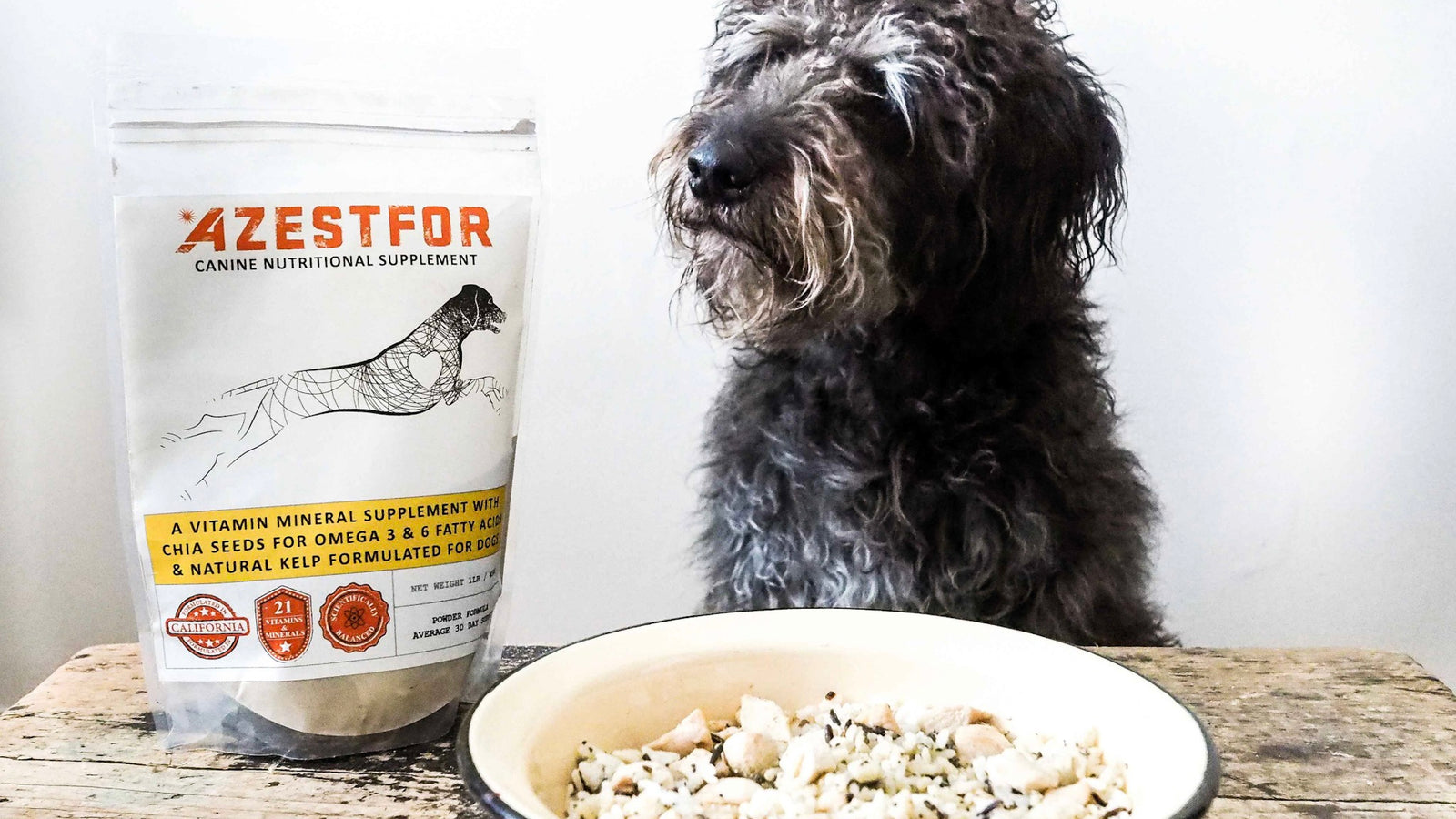 STEP 3
Add Homemade Dog Food Vitamins to Chicken & Rice Dog Food Recipe
When the meat and rice are cool to touch you can add the Azestfor nutritional supplements.

Heat destroys the potency of vitamins.
Watch Instructional Cooking Video How To Make Healthy Homemade Dog Food:
Storage
The recipe can be prepared in large batches and frozen. It will keep for up to a year in the freezer, or one week in the fridge. Freezing vitamins preserves their potency. I would recommend portioning the food into meal size servings before freezing it.
To defrost a frozen meal – put it in the fridge overnight.
Feeding Guidelines
We suggest dividing the daily amount into two servings, one in the morning and one in the evening. Every dog's nutritional requirements are a little bit different due to age & amount of exercise. If your dog is losing weight, increase food by 1/4 cup a day, if they are gaining weight reduce accordingly.
Weight of Dog
5 lbs to maintain weight 3/4 cup per day
10 lbs to maintain weight 1 1/4 cups per day
15 lbs to maintain weight 1 2/3 cups per day
20 lbs to maintain weight 2 cups per day
30 lbs to maintain weight 3 cups per day
40 lbs to maintain weight 3 1/2 cups per day
50 lbs to maintain weight 4 cups per day
60 lbs to maintain weight 4 3/4 cups per day
70 lbs to maintain weight 5 1/3 cups per day
80 lbs to maintain weight 6 cups per day
90 lbs to maintain weight 6 1/2 cups per day