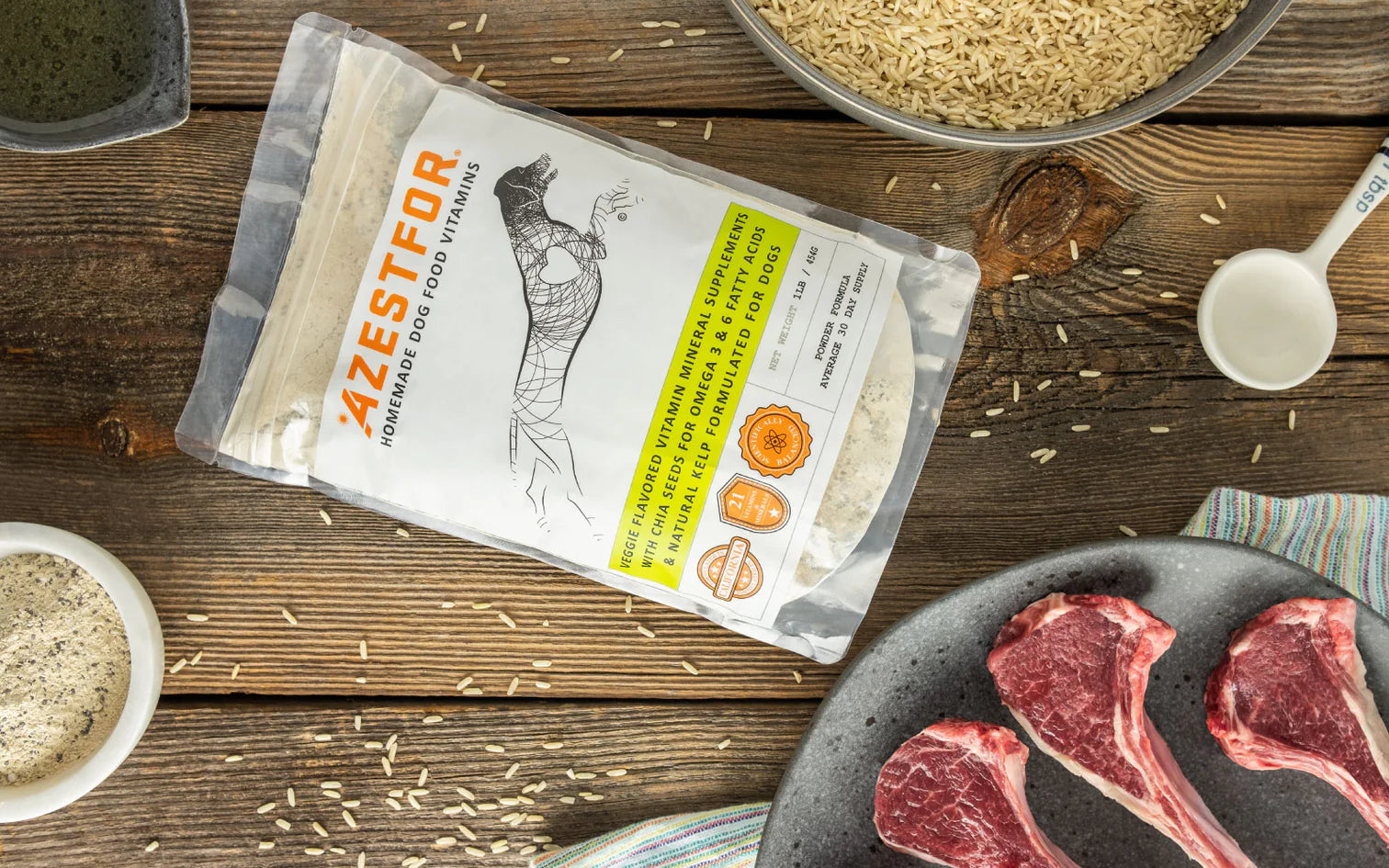 Homemade Dog Food For Allergies
Homemade Dog Food For Allergies
7 ounces lamb, cooked
1-1/2 cups cooked rice
1 teaspoon sunflower oil
5 teaspoons Azestfor Vitamins
Prep Time: 5 minutes
Cook Time: 30 minutes
Recipe Yield: 2 1/2 cups
This homemade dog food for sensitive skin recipe will yield approximately 2.5 cups of food, equating to 757 calories (Kcals), approximately enough servings of food for one day for a 30 lb dog to maintain weight.
Lamb and Rice is a very easy recipe to make with all the lasting health benefits of fresh homemade dog food diet free of preservatives, filler and chemical treatments. The lamb is an exotic protein for most dogs, meaning they most likely haven't had it before, making it an excellent choice for dogs who need a unique protein choice. All breeds of dog's will thrive on this diet.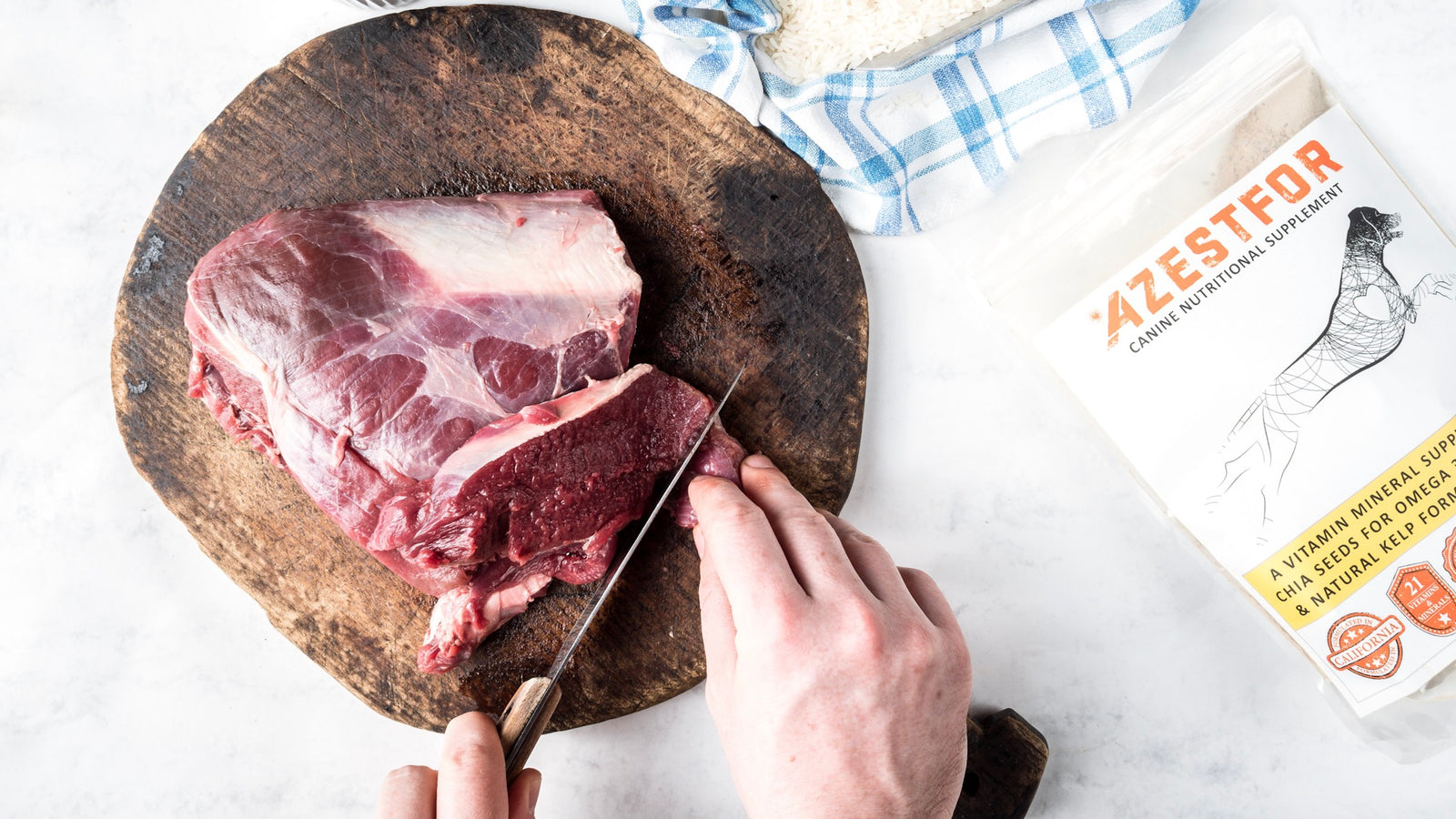 STEP 1
How to Cook Lamb for Dogs
In a large skillet or pot place cubed or ground lamb. Add just enough water to cover. Bring to a boil. Cover and simmer gently for about 30 minutes or until lamb is cooked. Remove from heat. Drain excess liquid.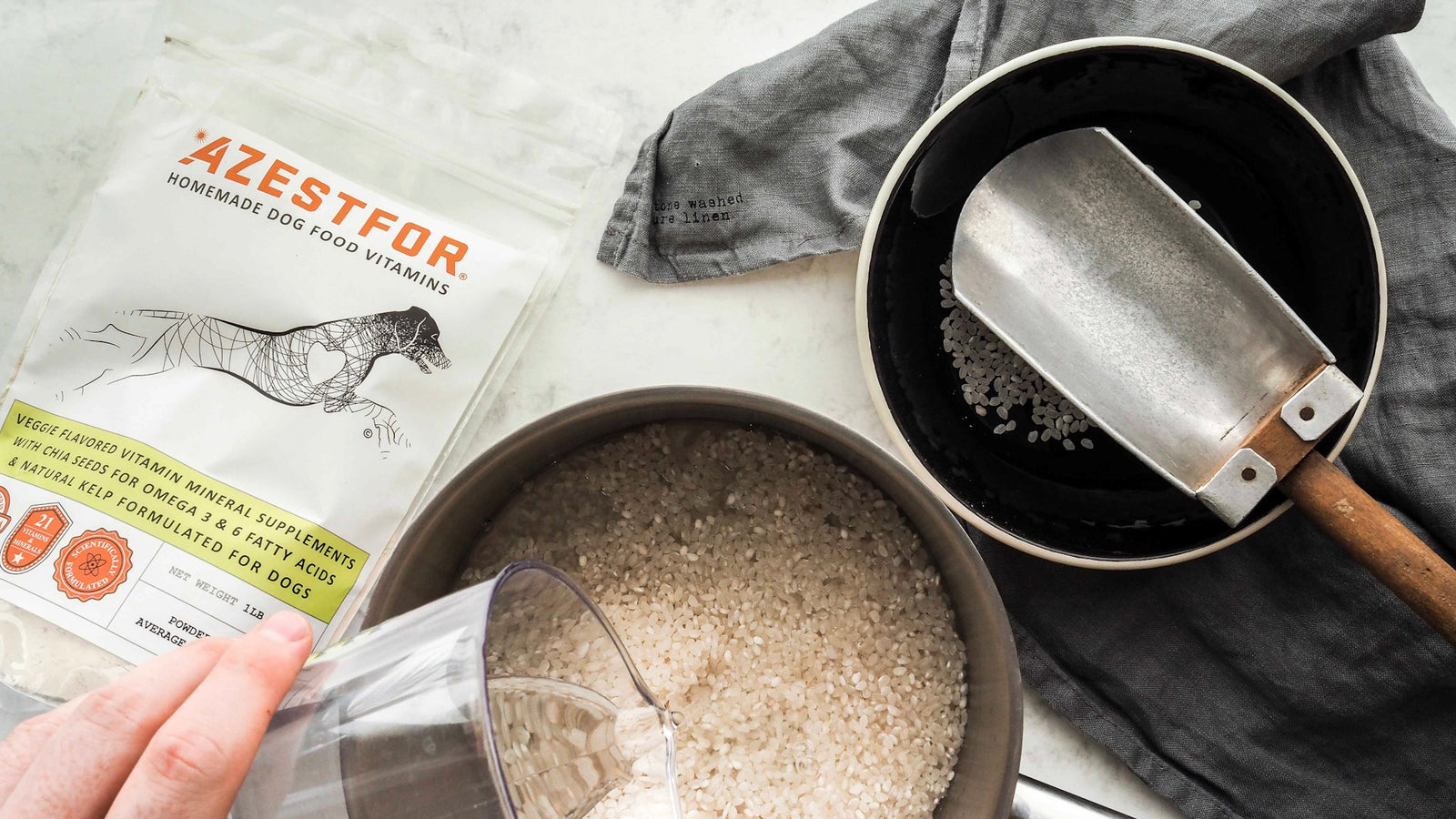 STEP 2
Cooking Rice for Dogs
Place rice in a saucepan with double the amount of water. Bring to the boil, then turn the heat all the way down and cover the pan tightly with a lid. Cook on the lowest heat possible for 10-15 mins without uncovering the pan. Use a fork to fluff up the cooked rice.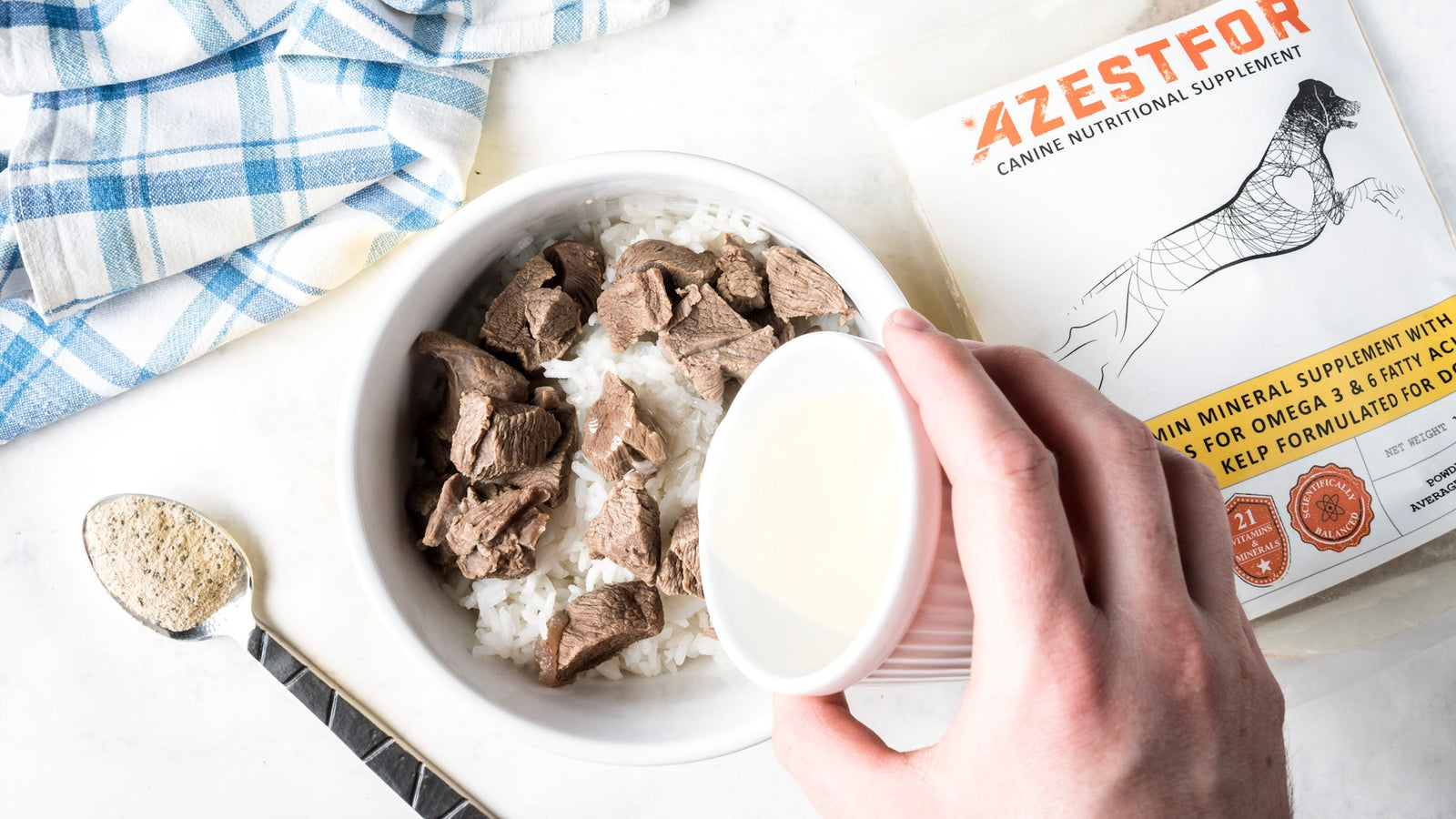 STEP 3
Add Sunflower Oil Source of Linoleic acid
Sunflower oil is added to provide your pup with linoleic acid, a source of omega-6 fatty acids to support healthy skin (great for allergies!) and coat. If you would like a substitute oil, you can add Wheat germ, Walnut or Corn oil in the amount of 1.2 teaspoons.
STEP 4
Mix in Vitamins
Sunflower oil is added to provide your pup with linoleic acid, a source of omega-6 fatty acids to support healthy skin (great for allergies!) and coat. If you would like a substitute oil, you can add Wheat germ, Walnut or Corn oil in the amount of 1.2 teaspoons.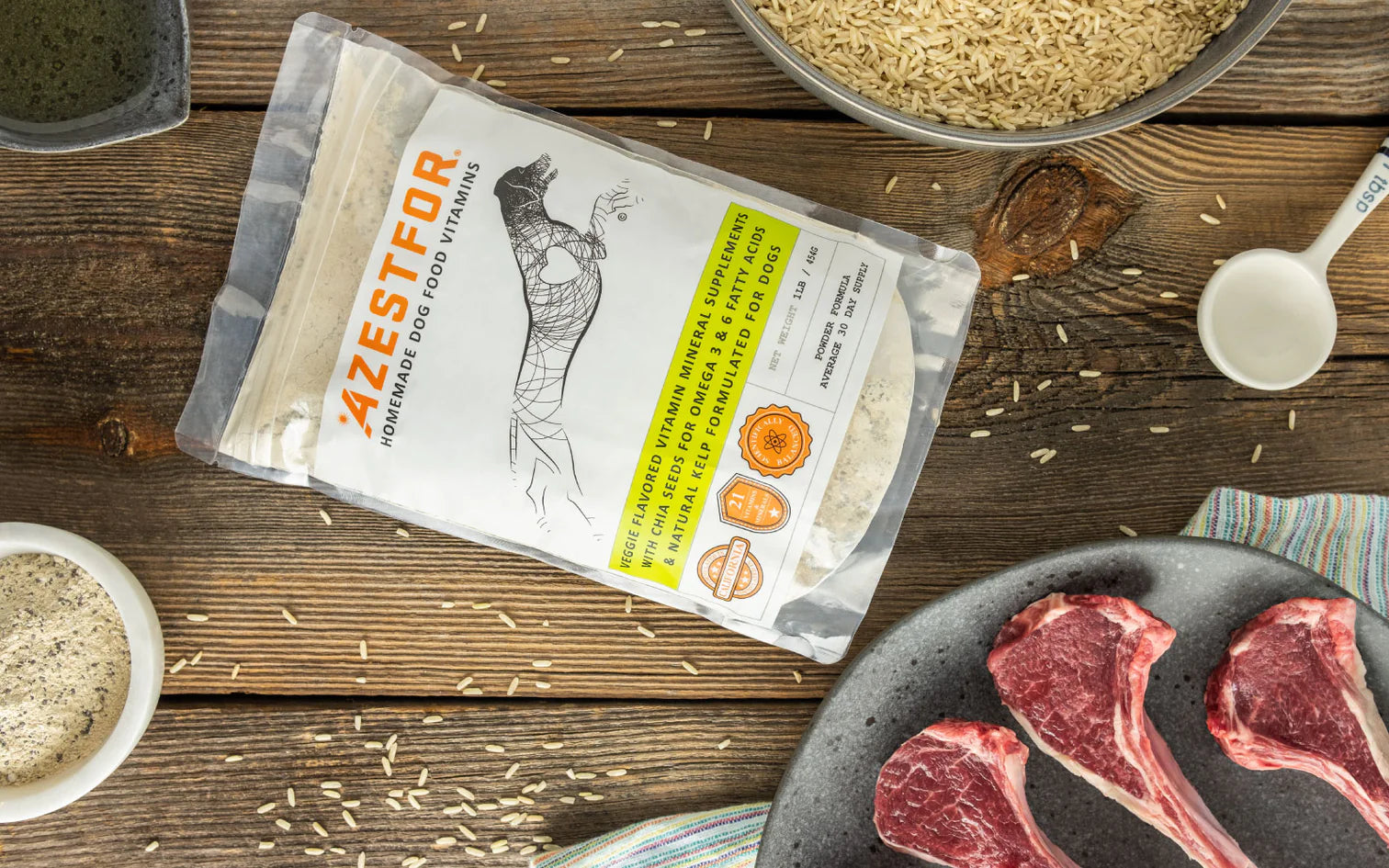 Tips for Serving Azestfor Vitamins
To ensure your pet is getting the most nutrition possible from his or her dog food supplement powder, remember these tips:
Heat destroys the potency of vitamins
A fully cooked recipe with vitamins mixed in, CAN BE FROZEN for up to one year from the cook date. This will not affect supplement potency.
If you prefer to add your vitamins just before serving, add 1-1/4 teaspoons of Azestfor homemade dog food vitamins per 1 cup of homemade dog food.
Instructional Video: Homemade Dog Food for Allergies Recipe
Feeding Guidelines
We suggest dividing the daily amount for this hypoallergenic homemade dog food recipe into two servings: one in the morning and one in the evening. Every dog's nutritional requirements are a little bit different due to age & amount of exercise. If your dog is losing weight, increase food by 1/4 cup a day, if they are gaining weight reduce accordingly.
Weight of Dog and Amount of Food to Feed Per Day to Maintain Weight
5 lbs - 8/9 cup (5.8 oz) per day
10 lbs - 1 1/2 cups (9.7 oz) per day
15 lbs - 2 cups (13 oz) per day
20 lbs - 2 1/2 cups (16.5 oz) per day
30 lbs - 3 1/2 cups (22 oz) per day
40 lbs - 4 3/4 cups (27.5 oz) per day
50 lbs - 5 cups (32 oz) per day
60 lbs - 5 4/5 cups (37.5 oz) per day
70 lbs - 6 cups (42 oz) per day
80 lbs - 7 cups (45 oz) per day
90 lbs - 8 cups (50 oz) per day
Food Storage
This lamb and rice dog food recipe can be prepared in large batches and frozen. It will keep for up to a year in the freezer, or one week in the fridge.
Freezing vitamins preserves their potency. We recommend portioning the food into meal sized servings before freezing it.
To defrost a frozen meal – put it in the fridge overnight. To serve - set the cold food out until it becomes room temperature (~15 minutes).
Yes! Cooking lamb for dogs is an excellent choice because lamb is often a protein source that a lot of dogs may not have encountered before. That makes this simple homemade dog food for allergies recipe a great option for pet parents who are looking for a healthy dog food recipe with very few ingredients. 
White rice is an easily digested carbohydrate source for dogs. In fact, if your dog has had diarrhea or an upset stomach, it's likely your vet even prescribed serving chicken and rice (instead of commercial dog food) as treatment to soothe his tummy, because white rice is low in fiber.
Providing a steady diet of chicken and rice or lamb and rice to your dog long term is a healthy choice, when you are adding vitamins to make it nutritionally balanced.
Yes, it's definitely safe. Brown rice can be especially helpful for dogs with diabetes because it has a lower glycemic index than white rice. While healthier nutritionally, brown rice is a bit tougher for our furry friends to digest due to the seed coat that is still present in this variety.
Be sure to watch how much rice your dog takes in daily (brown or white!) because it can cause your pet to put on weight - just like it can for us.
Natural Supplements for Dog's with Itchy Skin
Traditional fish oil for dogs contains two kinds of omega 3 fatty acids - EPA and DHA.
Nutrients from shellfish, especially New Zealand's green lipped mussels, actually contain an additional, third omega 3, called ETA.
These rare ETA (Eicosatetraenoic) fatty acids can lower enzyme levels responsible for your dog's skin inflammation and pain - thereby benefiting not only dogs with allergies and itchy skin, but those dogs suffering from joint pain and arthritis as well.
Additionally, omega 3 fatty acids from green lipped mussels can help to repair damaged cartilage in joints - increasing mobility, range of motion, and ultimately, a dog's quality of life.
Need More Information on Food Allergies in Dogs?
For a more detailed explanation on food allergies and subsequent steps of conducting a challenge trial and provocation diet trial please download this free Dog Food Allergy Report we have prepared at this Link -Dog Food Allergy Report. Download