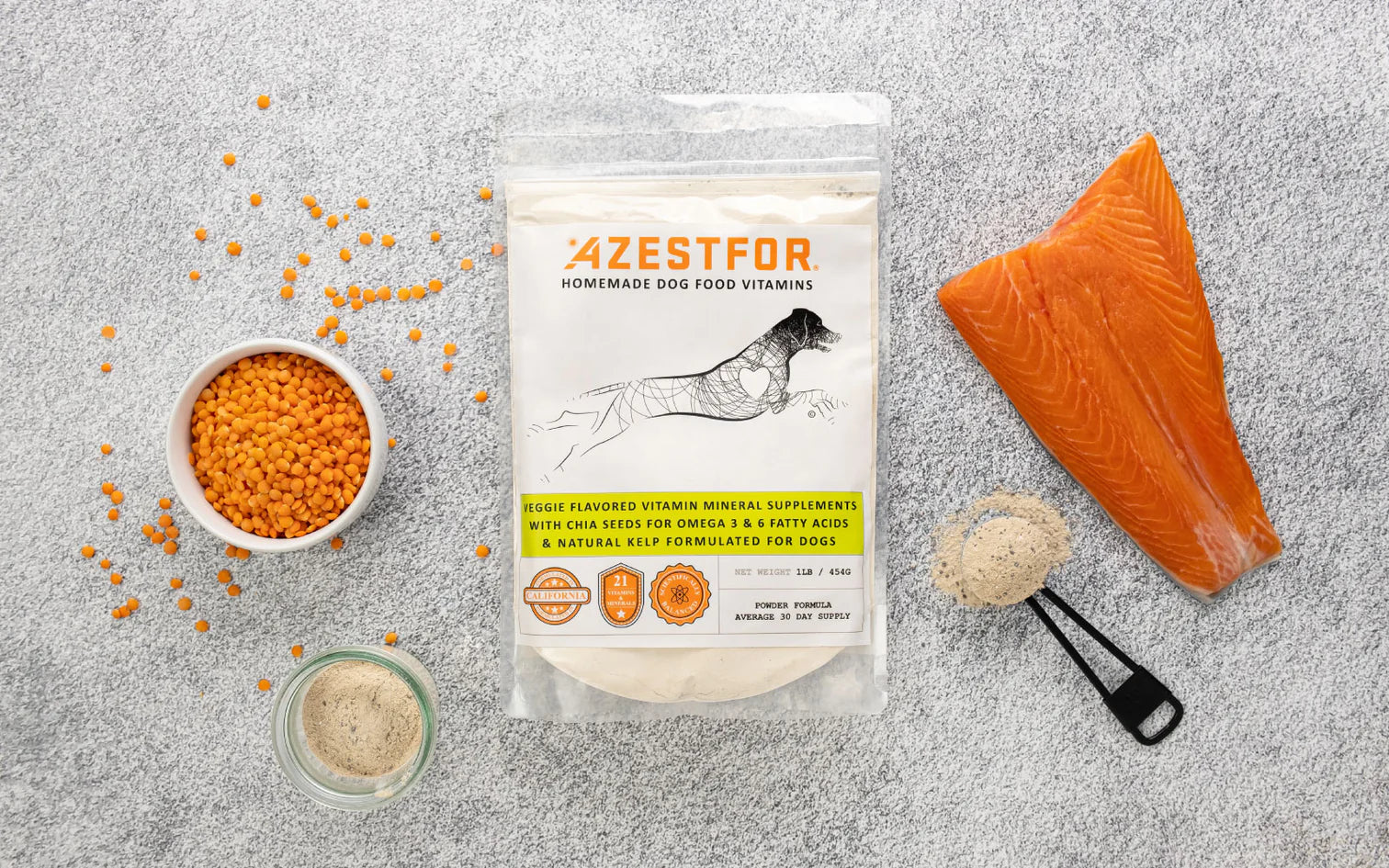 Poached Salmon Dog Food Recipe
7 oz (raw weight), salmon, cooked
1 1/2 cups lentils, cooked (1/2 cup dry lentils)
4 teaspoonsAzestfor Vitamins
This recipe will yield approximately 2 1/2 cups of food. Equating to 819 calories (Kcals) Approximately enough servings of food for 1 day for an 32 lb dog to maintain weight.
This healthy grain free dog food recipe is high in fiber, low in fat and naturally rich in essential omegas 3 & 6. With only three ingredients its easy to make your own healthy grain free dog food.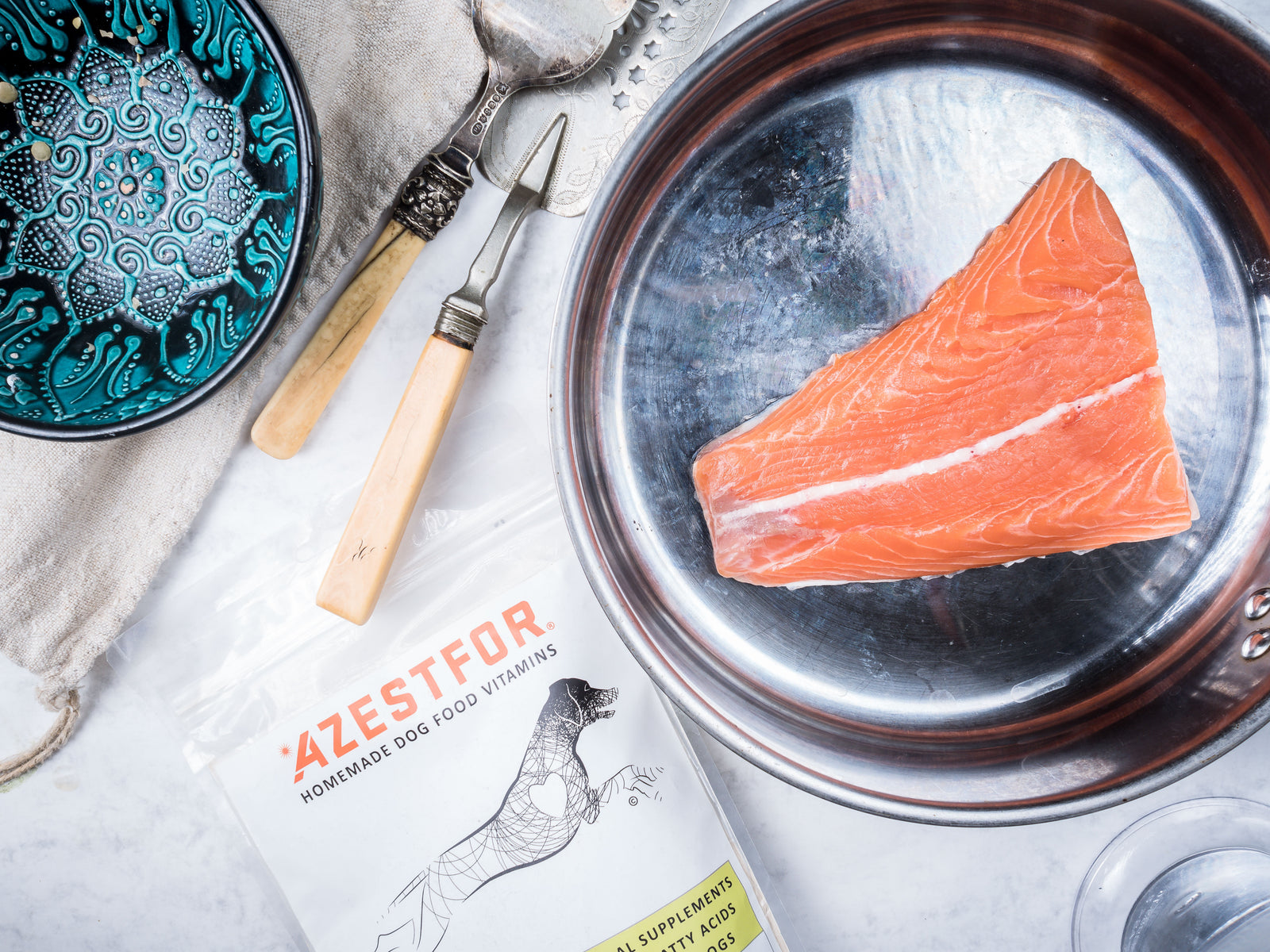 STEP 1
How to poach salmon for dogs
Place salmon in a pan on top of the stove, add water to just cover fish.

Cover and cook until salmon is opaque throughout, about 5 minutes (longer for thicker fillets). Using a wide slotted spatula, remove salmon from liquid.

It is important that all bones are removed from the fish. Bone splinters can pierce your dogs digestive system.
STEP 2
Prepare lentils for dog food recipe
Cook lentils on a stove top, using 1 1/2 cups of water for the 1/2 cup of dry lentils. Be sure to use a large enough saucepan as the lentils will triple in size. Bring to a boil, cover tightly, reduce heat and simmer until they are tender. For whole lentils, cook time is typically 15-20 minutes.
STEP 3
Add Azestfor vitamin minerals to salmon and lentil grain free dog food
When the fish and lentils are cool to touch you can add the Azestfor nutritional supplements. Combine all ingredients and serve.
Watch Instructional Cooking Video Dog Food Recipes
The recipe can be prepared in large batches and frozen. It will keep for up to a year in the freezer, or one week in the fridge.
Freezing vitamins preserves their potency. I would recommend portioning the food into meal size servings before freezing it.
To defrost a frozen meal – put it in the fridge overnight.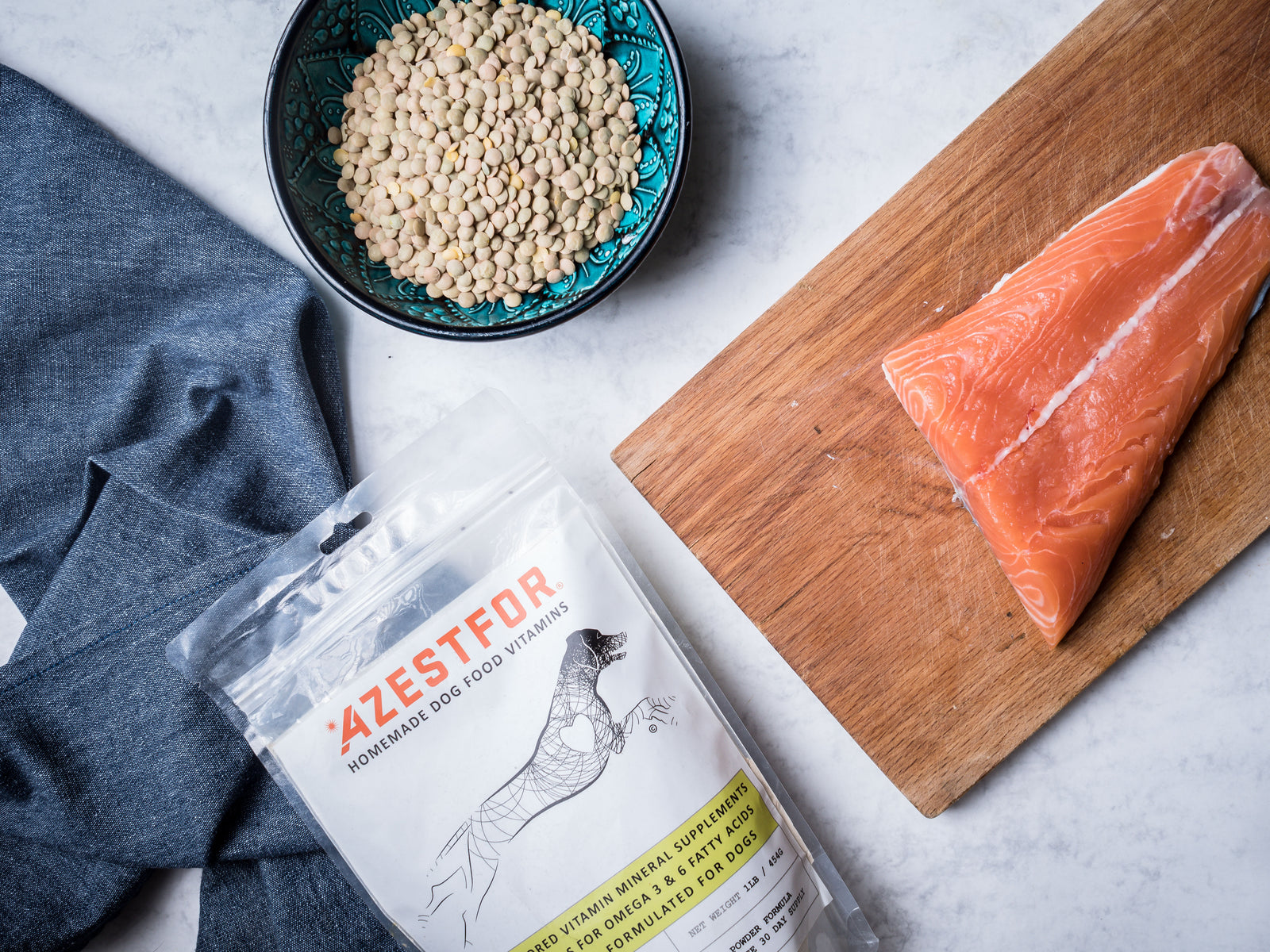 We suggest dividing the daily amount into two servings, one in the morning and one in the evening.
Every dog's nutritional requirements are a little bit different due to age & amount of exercise.
If your dog is losing weight, increase food by 1/4 cup a day, if they are gaining weight reduce accordingly.
Weight of Dog

5 lbs to maintain weight 2/3 cup per day
10 lbs to maintain weight 1 cups per day
15 lbs to maintain weight 1 1/2 cups per day
20 lbs to maintain weight 2 cups per day
30 lbs to maintain weight 2 1/2 cups per day
40 lbs to maintain weight 3 cups per day
50 lbs to maintain weight 3 2/3 cups per day
60 lbs to maintain weight 4 1/4 cups per day
70 lbs to maintain weight 4 3/4 cups per day
80 lbs to maintain weight 5 1/4 cups per day
90 lbs to maintain weight 5 3/4 cups per day
Shopping Check List
Salmon
Lentils
Freezer bags or other storage containers